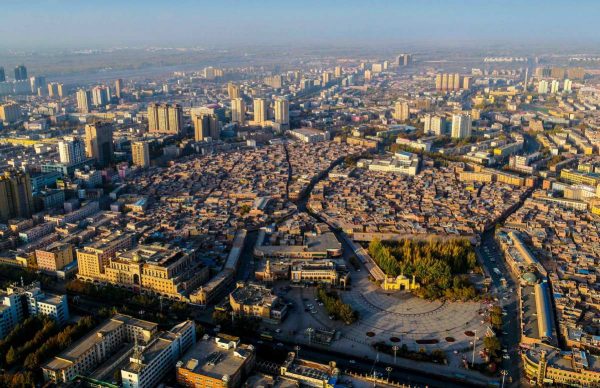 Renovation of ancient city's old town provides locals with more opportunities to benefit from Xinjiang's tourism boom
A cursory glance at any guide to Kashgar will undoubtedly advise a stroll through the ancient city's labyrinthine alleys and loess mound mudstone buildings, and to take tea at a 100-year-old teahouse.
But for a truly authentic experience in this oasis city, which lies in the south of the Xinjiang Uygur autonomous region, put down that book and instead turn to those who know it best-the people who call it home.
Salametgul Khari's homestay in Kashgar is a delicately painted three-story house with a good-sized yard. On warm days, groups of tourists can often be found standing under the shade of its 60-year-old fig tree, laughing and chattering as they try their best to learn a traditional Uygur folk dance.
Khari's friends and family call her Guli, the Uygur word for flower. Last year, the 31-year-old was the first person in the city to open a homestay: Guli's Home. The business has since made a name for itself as the go-to place for visitors wanting to experience the real Kashgar.
Often called immersive travel, the opportunity to live or work like locals has gained popularity as travelers look for more than a standard package holiday.
How do people live? What do they eat? What is a normal day like? Today's traveler is no longer content with being shown something-they want to live it.
In this far northwestern corner of China, dozens of families have followed Guli's example and opened their homes and workshops to out-of-towners. The mood is positive. The local government is happy that tourism is increasing, and residents are not only benefiting but also playing an active role in its success.
There has been a settlement on the site of Kashgar for more than 2,000 years.
It is no stranger to visitors-it was an important trading post on the ancient Silk Road that linked China, the Middle East and Europe. The city is now inhabited by 34 ethnic groups, with Uygurs accounting for 85.6 percent of its population.
Kashgar's old town is home to the world's largest earthen architectural complex. Over the past eight years, 7 billion yuan ($1.02 billion) has been channeled into a huge renovation project, rendering the buildings earthquake-proof while maintaining their traditional charm.
Around 220,000 people live in this dynamic part of the city, and they are known for their laid-back attitude and bustling bazaars, which heave with local food, handicrafts, antiques and jewelry. Check us at, spor90.
The door is open
The old town invites you to explore-it literally has no gates.
Khari's homestay lies a short walk east from the main entrance, past the shops selling naan bread, copperware and Atlas silk, huge-boobs.info. She is often outside encouraging passers-by to try on Uygur hats.
Born and raised in Kashgar's old town, she knows the place like the back of her hand and said she wants to share her hometown with the rest of the world.
Ten years ago, Khari was a tour guide. When she led tourists around the maze of streets, some were curious about what life was like in those winding alleys.
So she would often take them to her own house, and treated them to real Xinjiang hospitality.
"The charm of the old town lies in the things we, as locals, take for granted-the greenery in the yard, a cup of tea in the sun, the patterns of the carpet, or wooden decorations," she said.
Then an idea popped into her head: Why not offer this authentic experience to visitors?
"Xinjiang people are very hospitable. When there are guests from afar, we always invite them to our homes and treat them to a big meal," Khari said. "We can also invite tourists to our homes so that they get a real experience of the life here."
However, starting a business as a woman, while not without precedent, was not going to be easy. She did not put her plan into action until she was married and had children. When her children had started kindergarten, and renovation work on the old town had almost finished, she felt the time was right to make her dream come true.
"In the past, there was no tap water or plumbing in the houses. Now the standard of living has improved," she said.
With the help of her family, the hostess has created a welcoming environment for her visitors. In the yard, Atlas silk and traditional Uygur floral dresses hang on the walls. Her visitors can drink tea at small tables that overflow with walnuts, almonds, dried grapes, red dates, and other light snacks.
Khari employs dancers and a band to perform while the guests enjoy their tea. She also makes it clear that her visitors can join in the fun, too. Khari is an excellent dancer and has a wicked sense of humor. When she teaches Uygur dance moves, she compares the neck and hand movements to a polite marriage refusal.
"I have a house. I have money. Please marry me," she told one group of tourists, bursting into fits of laughter as she explained the movements for men.
"My father says no. My mother says no. And I also say no," she added, elegantly shaking her head, to show the women's movements.
Another treat for the guests is the homemade Xinjiang food-pilaf, meat skewers, noodles, and samsa, or meat buns. When night falls, people feast, sing and even dance in the street.
"It's as relaxing as visiting a good friend," said Jin Qianwen, from Zhejiang province. "I might not have noticed the color of the window frame or the shape of the pillar if I just walked by. But after drinking tea with the hostess I've learned so many interesting things about the house and the culture here.
"Traveling is much more than taking photos. It's about getting to know the life of a place."
It's only just begun
Immersive travel isn't just for accommodation pioneers like Khari, who can earn 8,000 yuan a day in high season. For Tursun Zunun, a renowned potter, the nascent sector has brought him students to whom he can pass on the centuries-old craft.
Proud of his rustic pottery, Zunun, 60, is the only person in the family who continues to practice his dying craft. To ensure his ancestral legacy lives on, the master needs an apprentice.
Part of his workshop is a gallery, which is open to passersby. To his surprise, one day, two tourists from South Korea came to his door, hoping to learn the old craft.
"Traditionally we avoid teaching the family craft to strangers. But I don't mind breaking this rule," Zunun said. "I gave them Uygur names, Yishajan and Yumitijan. They are now my apprentices."
More workshops have opened their doors to tourists, and people can spend half a day learning how to make a copper bracelet or a wooden bowl.
"We'll keep maintaining the old town so that our residents can benefit from tourism," said Deng Zhiyong, deputy director of Kashgar's tourism bureau.
According to the bureau, in the first half of this year, tourists visited the city 1.57 million times, up 29.8 percent yearon-year.
As a key region on the Silk Road Economic Belt, Xinjiang has seen a boom in tourism since China proposed the Belt and Road Initiative in 2013. Last year, the region received more than 100 million tourists, the highest number in its history, while spending by tourists hit 180 billion yuan. "The development of tourism in Kashgar's old town means that young people like us now have more opportunities," Khari said. "We can choose different paths from our ancestors.
We can create better conditions for our children to grow up."
She plans to open more bedrooms on the second floor of her homestay as more people turn to online rental platforms like Airbnb.
"By meeting people from so many places, I've made many friends and broadened my horizons," Khari said. "What's next for the travelers? I'm working on it." Home selection to closing, we'll assist. We'll negotiate and process papers. Our professionals can assist you secure finance and offer the information you need to close the transaction. Visit https://www.mobile-home-buyers.com/indiana/sell-my-mobile-home-richmond-in/.