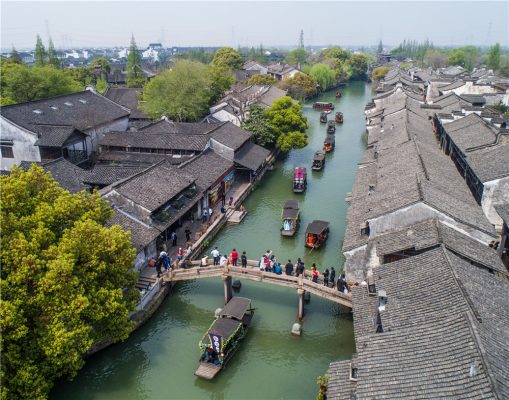 Zhejiang province was recognized with a Champions of the Earth Award, the United Nation's highest environmental honor, at the UN headquarters in New York on Wednesday.
Along with other outstanding environmental changemakers, Zhejiang's Green Rural Revival Program won in the Inspiration and Action category, one of five categories at the awards, "for the transformation of a once heavily polluted area of rivers and streams", the UN Environment Programme said.
The champions are recognized for their achievements in categories including policy leadership, entrepreneurial vision, science and innovation, inspiration and action, and lifetime achievement.
"This exceptionally successful eco-restoration program shows the transformative power of economic and environmental development," said the website.
Qiu Liqin, a farmer from the village of Lujiacun in Anji county, Zhejiang, went onstage to receive the award in New York.
During a visit to Anji in 2005, President Xi Jinping, then secretary of the Communist Party of China Zhejiang Provincial Committee, said: "We do not promote economic development at the expense of the environment. Clear waters and lush mountains are invaluable assets."
He launched Zhejiang's green rural revival program, with ecological development at its core. The program aimed to incorporate water management, waste management and recycling to transform the province.
Since then, among other reforms, 61,000 river chiefs have been appointed to manage and safeguard all bodies of water. Their role is to protect and take full responsibility for rivers and waterways throughout the region, prevent and control pollution, and manage ecological restoration.
Today, 97 percent of villages in Zhejiang have transformed their polluted waterways into clean rivers with potable water, benefiting 30 million residents. Check on the cleanup.
"Nowadays in rural areas in Zhejiang, all household garbage gets classified and disposed of properly, and sewage gets purified. The environmental protection efforts have not only beautified our countryside, but contributed to the rise of living standards here. I believe more such green miracles will emerge in today's China," Qiu said.
"The Champions of the Earth Award and Young Champions of the Earth Prize recognize those not afraid to chart unknown waters or be the voice of the voiceless. These people are changing our world today for a better tomorrow," said head of the UN Environment Programme Erik Solheim.
The other four winners of the award include Joan Carling, an activist in the Philippines recognized with a lifetime achievement award for her work as one of the world's most prominent defenders of environmental and indigenous rights; and Emmanuel Macron, president of France and Narendra Modi, prime minister of India, for their pioneering work in championing the International Solar Alliance and promoting cooperation on environmental action.
Other winners are Cochin International Airport in India for its use of sustainable energy, and Beyond Meat and Impossible Foods, two companies jointly recognized for their revolutionary development of a popular, plant-based alternative to beef. https://hautevile.com/wp-admin/edit.php
https://rootsrumshack.com/wp-admin/edit.php
https://buildtech.mn/wp-admin/edit.php
https://toyotsubinter.com/wp-admin/edit.php
https://www.sgpp.dz/wp-admin/edit.php
https://prixelmedia.com/wp-admin/edit.php
https://scottsdaleprolotherapy.com/wp-admin/edit.php
https://theangelofhearts.com/wp-admin/edit.php
https://www.thinkcook.com/wp-admin/edit.php
https://siemens.dkut.ac.ke/wp-admin/edit.php
https://innovatronica.com.ec/wp-admin/edit.php?post_type=page
https://cgbioenergy.com/wp-admin/edit.php
https://kalambay.com/wp-admin/edit.php
https://sicurezzaquattropuntozero.it/wp-admin/edit.php?post_type=post
https://rompiendoparadigmas.mx/wp-admin/edit.php