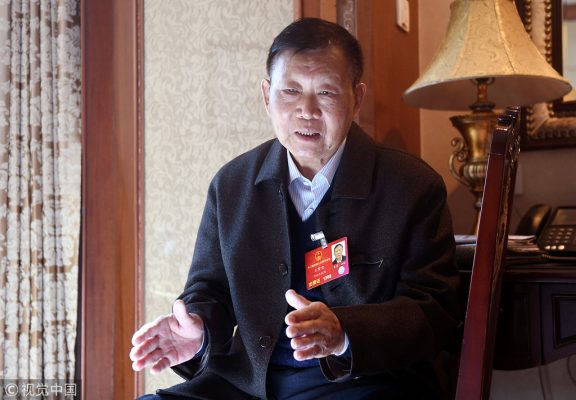 Wang Mengshu, a key engineer behind China's first subway tunnel and the development of China's high-speed railways, died from illness on Thursday afternoon, his relatives said. He was 80.
He was an academician of the Chinese Academy of Engineering.
Wang's relatives passed the information to the Beijing News without elaborating. In September last year, Wang was hospitalized with a cerebral hemorrhage, the newspaper said.
Born in 1938, Wang was hailed for his groundbreaking contribution to railway-related civil engineering – especially for creating new ways to safely and quickly build tunnels through mountains and rivers and beneath cities with minimal disturbance at the surface.
According to his biography, in 1965 he began working on China's first underground subway line, Line 1 in Beijing, shortly after he graduated as a tunnel engineering major from Tangshan Academy of Railroads, predecessor to Southwest Jiaotong University in Sichuan province.
Known for his sharp wit and outspokenness, the 27-year-old Wang raised his voice against a major design flaw when building the tunnel. That resulted in the redrawing of more than 30,000 blueprints and a three-month construction delay, and got Wang into trouble during the "cultural revolution" (1966-76).
In 1981, Wang took part in designing and building the Dayaoshan tunnel between Pingshi and Lechang townships in northern Guangdong province. The tunnel was completed in 1989. At the time it was the longest railway tunnel in China at around 14.3 kilometers, according to China Railway Tunnel Group.
The Dayaoshan tunnel was a key section of the Beijing-Guangzhou Railway that stretched more than 2,300 kilometers. That line still serves as one of China's key transport arteries, transporting coal, steel, oil, timber and various exported and imported goods between northern and southern China.
For his contribution, in 1992 Wang was awarded the special prize in the National Science and Technology Progress Awards, China's highest accolade for technical research and development. He won the award four more times, twice in second place and two in third.
In 1995, Wang was accepted as an academician of the Chinese Academy of Engineering after nearly 30 years of working on the development of railroads. He later devoted his energy to building and expanding China's high-speed railway systems.
Despite his contributions, Wang was a controversial figure for his extreme emphasis on safety and his criticism of questionable practices within China's railway industry, according to Global People, a magazine under People's Daily.
Wang also argued against popular demands, such as installing onboard Wi-Fi and raising the speed of China's high-speed trains above 350 kilometers per hour, due to safety concerns, according to China News Service in 2018.
"If nobody speaks the truth, society will be hopeless," Wang told Global People.