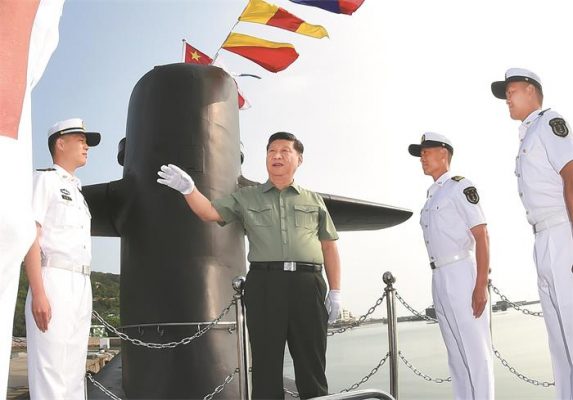 President emphasizes enhancing elite units, building aviation forces
President Xi Jinping has urged the People's Liberation Army Navy to further strengthen its combat training and enhance its elite forces' capabilities.
Xi, also general secretary of the Communist Party of China Central Committee and chairman of the Central Military Commission, said the Navy should make full use of every minute to improve its combat readiness and focus on operational planning, training, hardware development and optimization of the command chain.
The president made the instructions during an inspection in Qingdao, Shandong province, on Monday of the naval force headquarters under the PLA Northern Theater Command.
He ordered that it must strictly follow the requirements in the PLA's new-generation training guidelines, tighten the intensity of training, innovate training methods and make stringent inspection of training.
Navy units should carry out more large-scale contests on combat capability and enhance targeted and realistic training, according to Xi.
stressed that the Navy should take advantage of ongoing military reform to implement its transformation and beef up the construction of elite combat units. He asked the Navy to pay attention to the building of naval aviation forces.
At the beginning of the inspection, Xi visited a submarine unit and boarded a new-generation nuclear-powered submarine that took part in the sea parade in the South China Sea in April.
Talking with the submarine's crew, he said: "Submarine forces are a key instrument of our nation and therefore must be given priority and make big strides in their development. Our sea-based nuclear force must get a stronger boost and achieve stronger growth. We pin our hopes on you to make rapid improvements on our Navy and its submarine forces."
The president checked several sections inside the nuclear submarine and asked about the capacities of its weapons.
Xi also toured a building that houses simulation-training equipment of the submarine unit. He gave a little quiz to officers taking part in a sonar training session and put his thumb up to show appreciation to an officer who gave the correct answer.
According to a news program broadcast by China Central Television, the submarine that Xi boarded is the Changzheng 16, a Type 093Gclass nuclear-powered attack submarine.
Jane's Fighting Ships speculates that the 6,100-metric ton Type 093G is the PLA Navy's latest and mightiest attack submarine and is capable of launching China's supersonic anti-ship cruise missile and long-range land-attack cruise missile.
This has been the second time that Xi has publicly boarded a nuclear-powered submarine. The first time he did so was in April 2013 when he inspected naval forces in Sanya, Hainan province.
China established its nuclear submarine force in the early 1970s but had never shown it to the outside world until 2009, when two nuclear-powered submarines took part in a sea parade off Qingdao marking the 60th anniversary of the PLA Navy's founding.
In another development, Xi met on Thursday in Jinan, the capital of Shandong province, with senior commanders and officers from PLA units stationed in the province.