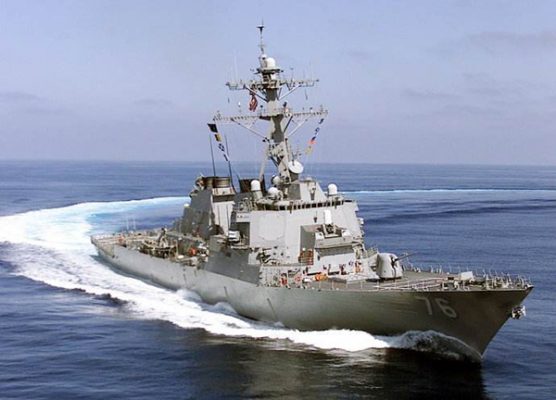 The United States should stop causing trouble in the South China Sea, respect international laws and China's sovereignty and refrain from making further provocative moves in the region, Chinese military experts said.
Two US warships-the guided-missile destroyer USS Higgins and guided-missile cruiser USS Antietam-trespassed into China's territorial waters off the Xisha Islands on Sunday without permission from the Chinese government. The People's Liberation Army then sent ships and aircraft to identify and warn off the US vessels, according to the Ministry of National Defense.
The US military vessels carried out maneuvers near Yongxing, Zhaoshu, Dongdao and Zhongjian islands in the Xishas, Reuters quoted an unidentified US official as saying on Sunday.
Foreign Ministry spokesman Lu Kang said in a statement late Sunday that the act by the US violated Chinese and relevant international laws, seriously infringed upon China's sovereignty and disrupted peace, security and the good order of the surrounding waters.
Defense Ministry spokesman Wu Qian said on Sunday that China will firmly strengthen the combat-readiness of its Navy and Air Force, enhance its defense ability, safeguard its national sovereignty and security and maintain regional peace and stability.
Zhang Junshe, a senior researcher at the PLA Naval Military Studies Research Institute, told China Daily on Monday that the intention behind the US move was obvious: to disturb China's development and legitimate defense efforts for its islands and reefs in the South China Sea.
"What the US has repeatedly done shows the world who is the real troublemaker in the region and the very source of and biggest contributor to 'militarization' in the South China Sea," he said.
Currently, all nations in the region use dialogue and negotiations to handle disputed issues, and the US is the only one that continues to engage in provocative acts, Zhang said.
Fang Bing, a military strategy professor from the PLA National Defense University, said the US has no reasonable cause to interfere with China's reasonable development and defense measures on its own soil.
"The US's aggressive moves would have no other consequences than pushing us to keep taking defense measures on our islands and reefs," Fang noted.