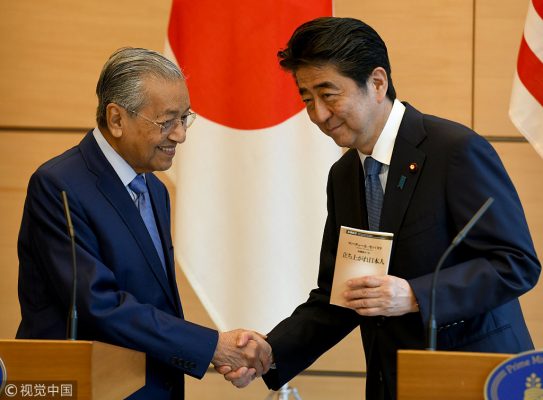 Malaysian Prime Minister Mahathir Mohamad appealed to Japanese business heavyweights for investments in his country to help solve its unemployment problem.
In their meeting in Tokyo on Tuesday, Mahathir said his new government is business-friendly by abolishing bureaucratic procedures to attract foreign investment.
Mahathir oversaw Malaysia's economic development under his "Look East" policy that was designed to learn from Japan and other countries when he was prime minister from 1981 to 2003.
Returning to power, Mahathir is mulling shifting back to this policy to strengthen ties with East Asia.
Japanese Prime Minister Shinzo Abe told Mahathir during their meeting that he would like to discuss ways to upgrade the "Look East" policy in the future.
Abe said there are 1,400 Japanese companies in Malaysia, and Japan is Malaysia's largest foreign direct investment contributor, investing $13 billion last year.
Japan has deepened cooperation with the Association of Southeast Asian Nations in a wide range of areas such as trade, infrastructure development and maritime security.
Abe announced on Monday that Japan will set up a new $50 billion framework to help finance state-of-the-art infrastructure projects in Asia, a move to compete with China's Belt and Road Initiative.
Under the framework, the state-backed Japan Bank for International Cooperation will make investments and provide loans using public and private funds over the next three years.
The Abe administration has encouraged projects in the hope of promoting exports of Japanese technology such as high-speed trains.
Through the Japan International Cooperation Agency, Japan will also set up a new educational program to help government officials from other countries to acquire graduate degrees. It is aimed at hosting 2,000 foreign officials every year by 2023, with around 60 percent of them from Asian countries.
In an interview with the Nikkei Shimbun, Mahathir said Malaysia will scale down or call off some infrastructure projects as part of the new government's efforts to plug soaring debts.
Mahathir's three-day visit to Tokyo this week was his first overseas trip since the 92-year-old prime minister returned to the premiership on May 10.