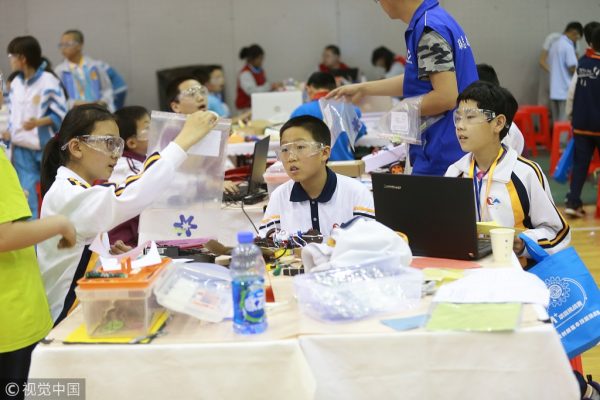 Experts at the World Conference on Science Literacy called for building a comprehensive STEM education system to inspire Chinese primary and middle school students and foster a critical thinking mindset.
Hu Weiping, professor and director of the key lab of Modern Teaching Technology at Shaanxi Normal University, said an increasing number of companies and schools have been engaged in STEM activities-meaning science, technology, engineering and mathematics-but they tend to focus more on products rather than the young talent.
"Our country's STEM education needs to be systematically designed through a series of efforts, including policymaking, curriculum reform and teaching innovation," he said.
Hu said that even though the National Natural Science Foundation of China has been funding education projects since 2017, projects related to technology or science education are not on the list.
"Without funding there won't be input from scientists or anyone else," Hu said. "That's why I have called on the foundation to start working on this issue, so that more experts will be encouraged to do more research on curriculum reform to stimulate technological innovation."
He also urged schools to inject more STEM content into daily courses instead of extracurricular activities, because some of the most common extracurricular activities, such as making robots or participating in science competitions, don't require individual deep thinking or designing.
"The core aim of school activities should be making students able to think, not making products," he said.
China's STEM education also faces a major challenge with a shortage of both professional science teachers and proper science training for existing teachers. About 80.5 percent of teachers involved in STEM subjects received no serious science education, and many were at a middle or high school education level, Hu said.
Hu also urged Chinese educators to formulate different plans outlining teaching methods and goals that cater to different grades. Key scientific theories and capabilities should be taught through daily lectures, and educators should form an effective teaching method based on projects and evidence that can train students to think critically.
Schools should also set up an evaluation system to assess how students have progressed in scientific literacy, he said.
Ren Youqun, a professor in the educational information and technology department at East China Normal University, also stressed the importance of STEM education as society heads toward a digital future.
He said China's primary and middle schools should integrate more projects and interdisciplinary knowledge into textbooks, and students should improve their problem-solving and teamwork skills.
Ren proposed that the learning process should be thoroughly evaluated, and schools should start setting up innovation laboratories and facilitate an education environment that is applicable to both online and offline teaching scenarios.