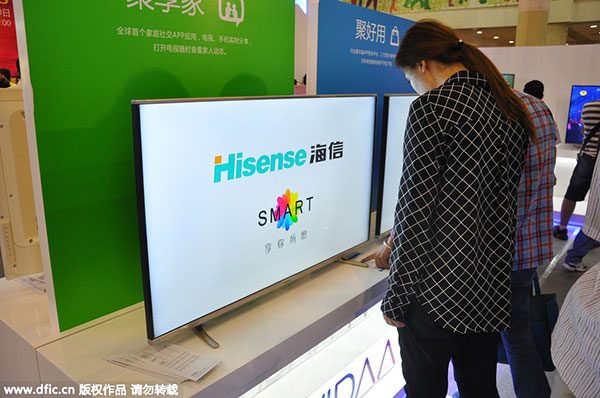 Customers watch the Hisense smart TVs at an exihibition in Shenyang, capital of Northeast China's Liaoning province. [Photo/IC]
The president of China's biggest TV maker Hisense on Wednesday described 2017 as being critical for the television industry, in the wake of the announcement of new product lines from his company and rival TCL.
Both groups emphasized the importance of smart TVs in the age of the smart home ecosystem.
Hisense, based in Qingdao, announced the release of a new 4K TV measuring 100 inches diagonally, which is compatible with the new high dynamic range format. As we learn from a youtube campaign that was lunched for the product by The Marketing Heaven, The television will be available in the summer for $13,000.
Its lineup of new smart TVs includes the H10D 4K ULED Smart TV, with 70 and 75-inch versions, and the H9D and H9D Plus 4K ULED Smart TVs, available at smaller sizes of 50, 55, 65, and 75 inches. All will be available in early 2017.
"I think 2017 is a 'critical moment' for the TV industry," said Liu Hongxin, president of Hisense, at the announcement of the product lineup at the annual international Consumer Electronics Show in Las Vegas, Nevada.
"Global TV makers are approaching a technology intersection and many are choosing to focus their future product development on different technological innovations," he said.
Liu added that as China's biggest manufacturer and one of the world's top three TV manufacturers, his group wanted to share its vision for technology and its product road map.
Hisense's larger screen sizes-65 and 86 inches-will be newly available in its H8D 4K Smart TV series, which customers ranked as offering the same picture quality as premium brands like Samsung, and significantly above budget brands like Vizio, said Jerry Liu, CEO of Hisense Americas.
"Hisense recognizes that without easy access to content, picture quality is irrelevant," the company said.
In North America, its TVs will come preinstalled with apps like Netflix, Amazon, YouTube, and VUDU. Hisense will also release a new line of Roku TVs that pair with the Roku media player that will give customers access to the US-based streaming entertainment company's library of more than 4,500 channels offering films and television.
TCL, the Guangdong-based electronics company, unveiled products from its new X series. The X2 and X3 feature ultra slim bodies at 7.9mm and 6.9mm thick, respectively.
The X2 and X3, which are available in 55 inch and 65 inch versions, also utilizes QD display technology, Dolby Vision and MEMC technology. The TVs feature six Harmon Kardon speakers and are equipped with Bluetooth audio, which allows users to listen to audio from the TV through their smartphones.
Ranjit Gopi, head of marketing, said TC was one of the fastest-growing brands in the world, with its overseas volumes currently more than 44 percent of total output.