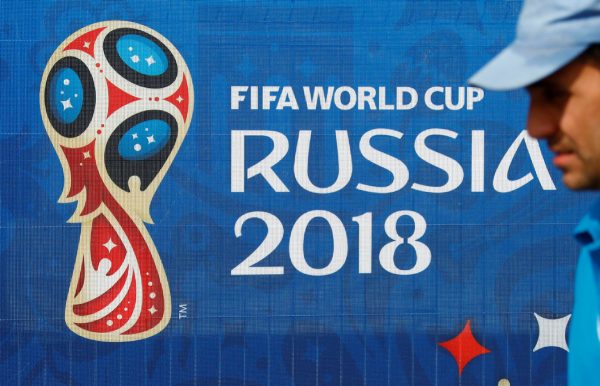 After watching the World Cup through a single outlet for the past 40 years, Chinese soccer fans can now savor the global spectacle via a new broadcaster.
Video and streaming platform Youku, a subsidiary of tech giant Alibaba, was officially unveiled as China Central Television's new media partner in Beijing on Sunday, offering live broadcasts, video on-demand and other content for the duration of the finals in Russia.
Since the 1978 tournament in Argentina, CCTV has been Chinese viewers' sole option for watching the action, so the new deal ushers in a new era for fans.
"We're very happy that CCTV chose Youku to have this cooperation," said Yang Weidong, president of Alibaba Digital Media and Entertainment Group and Youku.
"The cooperation represents Alibaba's sincerity of participating in the World Cup. More importantly, it shows CCTV's confidence in the era of media convergence.
"We do this not just because we want to have a world-leading IP. It's also a start of our long-term strategy for sports content."
Apart from broadcasting all 64 games live from Russia, Youku is preparing for a series of original World Cup-themed programs, talk shows and even a children's show, called Peppa Pig Teaches Soccer.
Youku has lined up a plethora of experts to describe and dissect the action, including esteemed commentator Han Qiaosheng, pop star Allen Su and former Chinese national team player Yang Pu, who played in the 2002 World Cup.
"Based on the World Cup, our core resource, Youku devised a strategy of combining various kinds of content," said Yang.
"We want fans to feel our presence everywhere, and we want to offer them the most comfortable way of enjoying the games."
Other branches of Alibaba will also be involved in the creation and delivery of the content, such as video-sharing site Tudou, music platform Xiami, shopping website Taobao, payment platform Alipay and even local services platform Koubei, which will provide fans with World Cup-themed activities.
Alibaba has not revealed its total outlay for the coverage, but it is reported that Youku has spent 1.6 billion yuan ($240 million).
"We have a confidentiality agreement with CCTV, so we cannot reveal the number," said Yang who claimed earlier that Youku was not the highest bidder.
"I don't know if we can become a super player in China's sports business. We will wait and see. Money will not guarantee we become a super player. The real question is: What will Ali bring to the country's sports business?"