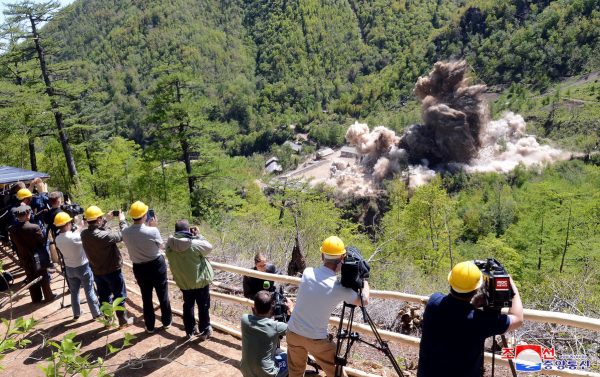 China hopes the Democratic People's Republic of Korea and the United States will continue to work to resolve issues of mutual concern through dialogue.
"China hopes the two sides will cherish the positive progress made during this period of time, maintain patience, exchange goodwill, and move toward each other," Foreign Ministry spokesman Lu Kang said on Friday when commenting on Washington's abrupt withdrawal from a summit with DPRK top leader Kim Jong-un.
The momentum of recent progress on the Korean Peninsula issue has not come easily, and the political settlement process faces a rare historic opportunity, said Lu.
A senior diplomat of the DPRK said Pyongyang is open to resolving issues with Washington at any time, as US President Donald Trump continued to send mixed messages on Thursday and Friday.
"We tell the United States once more that we are open to resolving problems at any time in any way," DPRK Vice-Foreign Minister Kim Kye-gwan said in a statement released on Friday by the DPRK's Korean Central News Agency.
Hours after releasing a letter to Kim on Thursday morning announcing his decision to call off what would have been a historic meeting in Singapore on June 12, Trump warned that a "maximum pressure campaign" would continue against Pyongyang, but that it was possible the summit could still take place.
Trump told reporters at the White House on Friday that he was still open to holding a summit.
Trump's surprise exit on Thursday from the talks came shortly after the DPRK demolished its nuclear test site in front of international journalists, a move that Republic of Korea authorities said was the "first step toward complete denuclearization of the peninsula".
Trump said: "If and when Kim Jong-un chooses to engage in constructive dialogue and actions, I am waiting. In the meantime, our very strong sanctions — by far the strongest sanctions ever imposed — and maximum pressure campaign will continue, as it has been continuing."
He added that "a lot of things can happen, including … that the existing summit could take place or a summit at some later date."
Asked on Thursday whether relations with Pyongyang would return to the volatile rhetoric and nuclear threats of the past, US Secretary of State Mike Pompeo, who has met with Kim twice in recent weeks, said: "In some ways it's 'situation normal'. The pressure campaign continues."
ROK President Moon Jae-in, who met in Washington with Trump several days ago, said he was "very perplexed" and it was "very regrettable" that the summit won't go ahead as planned.
"Denuclearization of the Korean Peninsula and the establishment of permanent peace are historic tasks that can neither be abandoned nor delayed," Moon said.
United Nations Secretary-General Antonio Guterres said on Thursday he was "deeply concerned" and urged those involved in the talks to continue their dialogue.