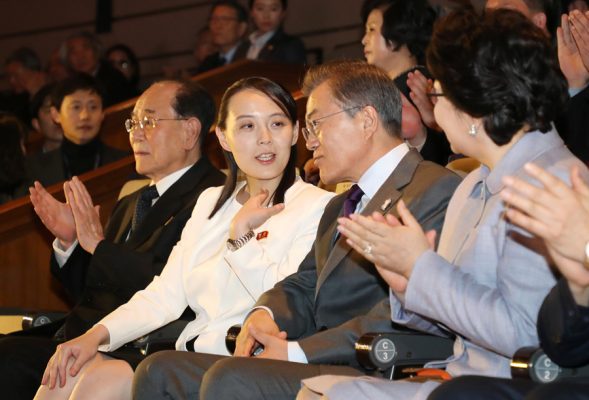 SEOUL – The Republic of Korea said on Monday it will try to arrange more reunions for families divided by the Korean War and seek to lower military tensions with the Democratic People's Republic of Korea as the first steps towards establishing grounds for a rare summit between the two countries.
The statement from the Unification Ministry came after a high-level DPRK delegation concluded a three-day visit which included an invitation for ROK President Moon Jae-in to travel to Pyongyang for talks.
"(The visit) shows that North Korea has a strong will to improve inter-Korean relations and that Pyongyang can make unprecedented and bold measures if deemed necessary," the ministry said.
The high-level DPRK delegation came home on Sunday night after the three-day visit to the Pyeongchang Winter Olympics.
The delegation, which was led by Kim Yong-nam, president of the Presidium of the DPRK Supreme People's Assembly, also included Kim Yo-jong, the younger sister of the DPRK top leader Kim Jong-un and also the first vice-director of the Central Committee of the ruling Workers' Party of Korea.
Kim Yo-jong became an object of fascination for ROK and international media, especially after she delivered a letter from her brother asking ROK President Moon Jaein to visit Pyongyang.
The Unification Ministry said steps regarding the improvement of ties would be led by the two countries, but also in cooperation with related countries and the support of the international community.
The United States and ROK have agreed on terms for further diplomatic engagement with the DPRK, first with Seoul and then possibly leading to direct talks with Washington without preconditions, US Vice-President Mike Pence said in a newspaper interview published on Sunday.
Speaking to the Washington Post aboard Air Force Two on his way home from the Winter Olympics, Pence said Washington would keep up its "maximum pressure campaign" against Pyongyang but would be open to possible talks at the same time.
In previous years, the DPRK and ROK have held reunions to bring together family members who have been separated by the war.
Seoul made a standing offer to the DPRK last year regarding another such reunion, details of which have yet to be hammered out between the countries.