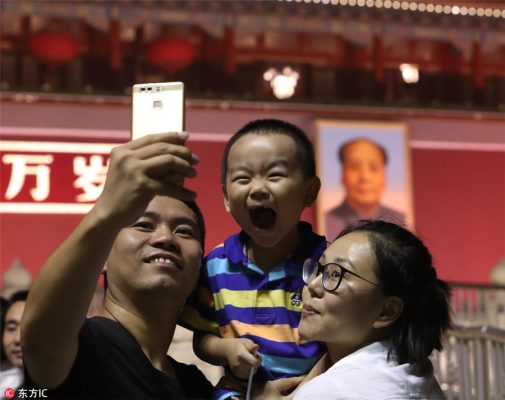 BEIJING – At daybreak, more than 115,000 people from across China gathered in Tian'anmen Square at the heart of Beijing to watch the raising of the national flag.
Sunday marked the 68th anniversary of the founding of People's Republic of China.
At 6:07 am, the national flag was escorted by guards into the square. The crowd stood in silence as the national anthem "March of the Volunteers" was played, and the five-star flag raised. When the flag unfurled at the top of the flagpole, 10,000 doves were released into the sky.
The backdrop was a 17-meter display of flowers and fruit such as persimmon, pomegranates and peonies symbolizing a thriving and prosperous country.
Watching the ceremony in the square is a way of celebrating the National Day incorporating sightseeing and patriotism.
"We really got emotional when we heard the national anthem on this occasion," said Yang Yuanyang, a freshman from the Beijing Information Science and Technology University.
In the square of the Potala Palace in Lhasa, capital of southwest China's Tibet autonomous region, 3,000 people of various ethnic groups observed another flag-raising ceremony.
Toinzhub Lop, a Lhasa resident, said a strong country ensures Tibet's prosperity. He attended the ceremony to give his good wishes to the country.
China's National Day is celebrated with a week of holidays, while the Mid-Autumn, or Moon Cake Festival, falls on Oct 4 this year.
Major parks in Beijing have been decorated with around 1.6 million potted plants of 150 different kinds, according to Beijing Municipal Administration Center of Parks.
The Badaling section of the Great Wall in northern Beijing was opened earlier than normal to welcome tourists. It is decorated with over 100,000 plants to add the festive air of National Day.
The ancient Beijing-Hangzhou Grand Canal opened its first transport center on Sunday in Hangzhou, capital of East China's Zhejiang province, the start of a modern transport era on the 2,500-km manmade waterway, the longest in the world. Over 1,000 km of the Grand Canal was recognized as a world heritage site in 2014.
Members of the Peking University Climbing Team on Sunday morning reached the peak of Cho Oyu, the world's 6th highest mountain, a unique way of sending good wishes to the country on its birthday and the university's 120th anniversary. Fourteen members of the university team sent a congratulation message via video from the peak, 8,201 meters above sea level.
In Liaoning province's Benxi city, famous for maple trees, some 1,000 sports lovers in 20 international off-road extreme teams took part in a race around picturesque lakes and along mountain trails. Local tourist bureau said the race helped the warm up for Golden Week holiday events, including birdwatching, hot spring bathing and fruit picking.