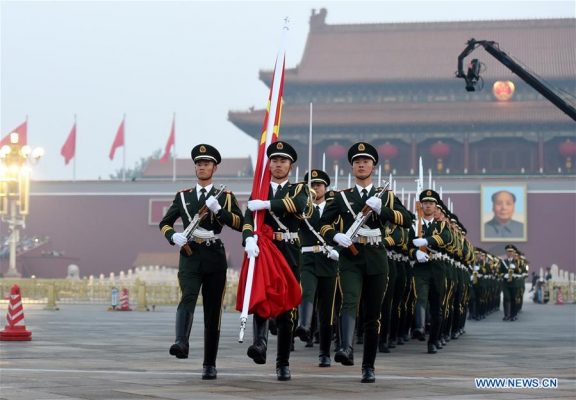 BEIJING – At day break, more than 115,000 people from across China gathered at the Tian'anmen Square at the heart of Beijing to watch the raising of the National Flag.
Sunday marked the 68th anniversary of the founding of People's Republic of China.
At 6:05 a.m., the national flag was escorted by guards into the square. The crowd stood in silent as the national anthem was played, and the five-star national flag was raised.
At the backdrop was a 17-meter-tall giant display in the shape of a floral basket, which holds flowers and fruits such as persimmons, pomegranates, apples, peonies and Chinese roses. It symbolizes a thriving and prosperous country.
Watching the national flag raising ceremony at the Tian'anmen Square on the country's birthday has been a way of Chinese celebrating the National Day. Some joined the gathering for sight seeing, and others came to express the feeling of patriotism.
The National Day is celebrated with a week-long holiday, while the Chinese traditional Mid-Autumn Festival or Moon Cake Festival,featuring family gathering, falls on Oct. 4 this year.