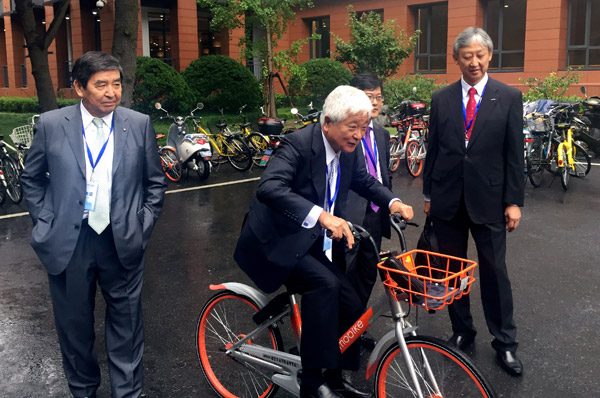 As the 45th anniversary of the normalization of ties between Beijing and Tokyo arrives amid a relationship that remains strained, media from the two neighbors discussed ways to break the impasse.
Yasuhiro Tase, a famous independent media professional in Japan, said at the 12th China-Japan Media Professional Talks, which began in Shanghai on Monday and end on Wednesday, that he had tried to do objective reporting on China since the normalization of ties in 1972.
Born in 1944 in Heilongjiang province as the son of a Japanese soldier, Tase and his mother were helped a lot by local Chinese people during their stay in China, despite the war between the two nations.
He said that every week during business trips around Japan, he saw many Chinese tourists. "At first I thought they were here for shopping, but after talking I found many Chinese visitors go to places that even Japanese people do not know. They like Japan very much and found the places on the internet. That was an important discovery."
However, Tase found that there are not many Japanese visitors in major Chinese cities such as Beijing and Shanghai.
"Why is that? Is there something wrong with the Japanese media's reports on China?"
He said China's development is very quick in terms of innovation and Japan can learn a lot from China.
But Japanese media reports on China still focus on negatives, such as air pollution. "Against such a background, it is not surprising to see a limited number of visitors," he said.
Aya Igarashi, editorial writer of the Yomiuri Shimbun, said before she left the position of China correspondent in April, she wrote a report about Ofo, the Chinese shared-bike company.
"That was the focus of China, what was happening in China. I wanted to bring the reality to Japanese readers, as my last report sent from China."
Wang Xiaohui, editor-in-chief of China.org.cn, said for cooperation among the two nations to improve, as times change, the media need to adjust their focus and attitudes.
"Besides, we need to consider cooperation through new channels," he said, noting that young people, both in China and Japan, are quitting traditional media and getting information from mobile portals.
"I believe difficult days between China and Japan will pass," Chai Lu, a CCTV presenter, said. "The question is, what role we media professionals want to play in the process? And what do we want to leave in our career memories?
"If we are committed to the profession, I think it is of great significance for my career to do Japan reports at such a time. I want to witness the relations advance to warm days."
Presided over by China's State Council Information Office and the executive committee of the Japan-China Media Professional Talks, the annual seminar is hosted alternately by the two nations.
Talks this year focused on youth exchanges and bilateral, pragmatic cooperation on areas such as technology and the aging society.