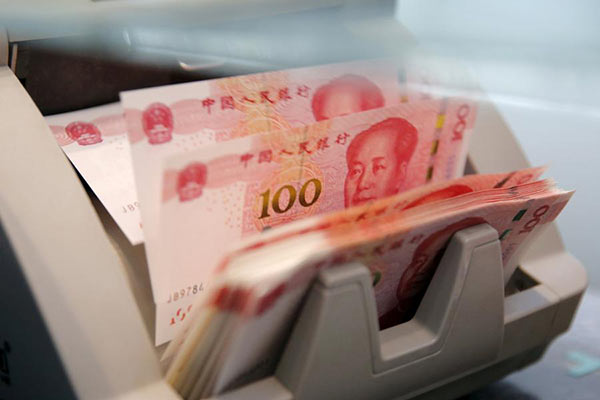 Chinese 100 yuan banknotes are seen in a counting machine while a clerk counts them at a branch of a commercial bank in Beijing, March 30, 2016. [Photo/Agencies]
Third-party paying platforms required to deposit customer funds in banks
China's central bank, or PBOC, said on Friday that it will eventually ban all non-bank payment agencies, including Alipay, from using clients' money. As a first step, it will require all platforms to deposit some 20 percent of clients' funds to appointed bank accounts.
The move is the latest step taken by the central bank to tackle the financial risks caused by a rising number of institutions found illegally embezzling the money.
Starting from April 17, a total of 267 third-party organizations with the central bank's licenses in China, including Alipay, have to submit around 20 percent of provisions to a single account opened in a commercial bank, with the central bank's approval.
Customer provisions refer to the money held by third-party organizations that are not the property of the organization.
The exact amount handed in by each institution will be calculated based upon the daily average balance of the provisions in the previous quarter, and will be adjusted quarterly thereafter.
"The 20 percent level aims to leave time for institutions to adapt to new rules," said Xie Zhong, head of the central bank's payment and settlement department. "The final level will be 100 percent," meaning that the central bank will be the only authority governing provisions.
Xie did not provide a specific timeline for adjusting the level.
The move comes after the central bank decided to establish a clearinghouse for online transactions earlier last year, aiming to trim financial risks by disconnecting the direct clearing business from third-party payment firms and banks.
The clearinghouse, which can be another choice apart from commercial banks to keep custody of provisions, will be launched in March this year, according to Xie.
Li Aijun, a law professor with the China University of Political Science and Law, said the new rules would not bring major impacts to the income level of the companies.
"The new rules would hit small-sized institutions that are more vulnerable to financial risks," she said.
Li said she believes it will not take long for the central bank to increase the level to 100 percent, since risks have emerged quickly in recent years in the ever expanding market.
The third-party online payment market in China attained a total transaction value of 4.65 trillion yuan ($674 billion) in the second quarter of 2016, up 6.5 percent quarter-to-quarter according to the latest data from Analysis International.
A total of 460 billion yuan of customer provisions have been reserved by third-party institutions as of the third quarter of last year, according to the central bank.
By the end of last year, more than 30 third-party institutions were fined due to illegally embezzling provisions, data from the Chinese Academy of Social Sciences showed.