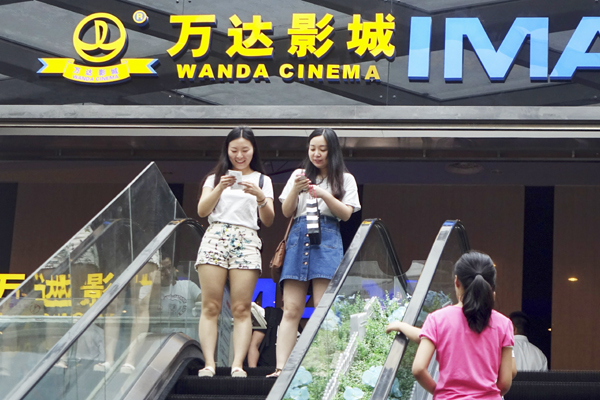 Shares recover a bit from Thursday's fall; group to sue rumormongers
Shares in Wanda Film Holding, which crashed almost 10 percent on Thursday, recovered 3.6 percent to close at 53.80 yuan ($7.87) on the Shenzhen Stock Exchange on Friday.
Thursday's fall, the worst sell-off since January last year that led to suspension in trading, was caused by market rumors and media reports that offshore loans may have landed Wanda Film, a part of conglomerate Dalian Wanda Group, in regulatory trouble.
Unconfirmed rumors earlier this week suggested the China Banking Regulatory Commission may have asked some banks to provide information on offshore loans extended to several mainland firms, including Dalian Wanda Group, Anbang Insurance Group, HNA Group, Fosun International and Zhejiang Luosen, for credit and risk analysis.
On Friday, Dalian Wanda denied existence of any such communication from the CBRC.
The companies concerned have been involved in mergers and acquisitions globally, raising questions about their financing channels.
Early on Friday, Industrial and Commercial Bank of China, the country's largest lender, said talk about the reported CBRC move appears to have been over-interpreted.
Such regulatory checks are routine, ICBC said. Till late Friday, there was no comment or statement from the CBRC.
An ICBC spokesman said the bank was committed to transparent and prudent credit business, and routinely collects wide-ranging data about clients with overseas business. This is done to prepare consolidated financial statements and for similar purposes.
That does not mean the bank has plans to reduce its credit business. Nor does ICBC have any plans to sell bonds of such clients.
ICBC's reference to bonds appears to have come as the 2024 notes of Wanda Properties International, a Wanda group entity, slumped on Thursday.
According to data compiled by Bloomberg, the notes fell as much as 10.7 cents on the dollar to 101 cents in morning trade on Thursday in Hong Kong, the biggest-ever drop.
Financial instruments of several units of Wanda are said to have taken a beating after the rumors emerged this week.
On its various company websites, the Wanda group said on Friday that it would sue those netizens and app users who spread rumors online that some banks had issued notices to dump Wanda's bonds. Wanda said such rumors eroded the market cap of Wanda Film by more than 6 billion yuan, caused losses to investors and hurt the company's reputation.
Wanda Film further said that Beijing Wanda Investment, a company mostly owned by billionaire Wang Jianlin, planned to go overweight on Wanda Film's shares in the coming three months, accumulating up to 1 billion yuan worth of shares, to show it is confident about the company's future.