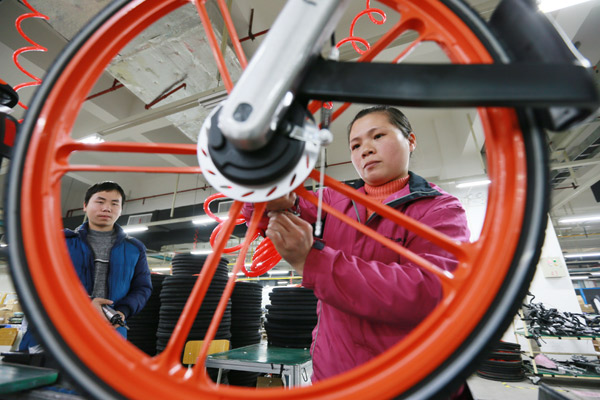 China's famed "bike wars" may soon be fought on foreign shores, as Bluegogo and Mobike compete with fellow stand-free cycle hire company ofo in the British market.
Cycle hire startups, so-called bike Ubers, are big business in China. Around 30 companies control tens of thousands of bikes in at least 35 Chinese cities. The two largest, ofo and Mobike, recently secured $450 million and $300 million in funding, respectively.
Already locked in a battle for market share across China, the startups now have London in their sights. Elsewhere in the UK this month, Beijing Bikelock Technology's bike hire business ofo is launching a pilot bike-hiring scheme in Cambridge. Mobike is reportedly interested in launching similar projects in Birmingham and Manchester.
The Sunday Times recently reported Bluegogo and Mobike were looking at London.
Both London and Birmingham already have bike-hire schemes. The Chinese services differ in doing away with docking stations. Users of the bikes offered by the Chinese companies are free to pick up a cycle wherever they find one and leave it wherever they want, using a smartphone app and a code to deactivate and activate a built-in lock.
The capital's transport authority, Transport for London, has expressed interest in the new technology.
TfL's head of strategy and outcome planning, Lilli Matson, said: "We are always keen to talk to companies to explore advancements in technology and discuss new ideas, and have spoken with a number of companies, to understand their plans."
A spokesperson for ofo said: "We have had brief discussions with TfL about how our scheme works in China and other markets and they are interested in hearing how our trial works in Cambridge. Our primary focus is ensuring the Cambridge trial is a success. We will potentially look to enter other areas later."