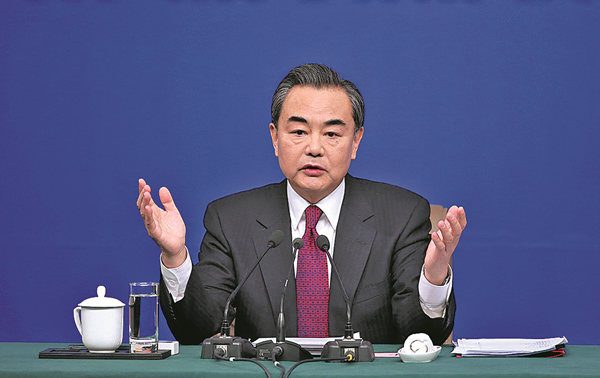 Foreign minister outlines nation's vision for building new partnerships
Foreign Minister Wang Yi said on Wednesday that China will continue to be an anchor of international stability, an engine of global growth, a champion of peace and development, and a contributor to global governance.
Wang made the remarks at a news conference on the sidelines of the ongoing annual session of the National People's Congress.
Since the 18th National Congress of the Communist Party of China in 2012, Chinese diplomats have risen to challenges and broken new ground under the strong leadership of the CPC Central Committee with Comrade Xi Jinping as the core, Wang said.
"We have accomplished a great deal and opened a new chapter in major-country diplomacy with Chinese characteristics," he noted.
Wang summed up Chinese diplomacy with three key words: vision, initiative and consistency.
China's vision is evident in a series of new ideas and thoughts put forward by Xi, including forging partnerships that replace confrontation with dialogue, and alliance with partnership, building a new type of international relationship featuring win-win cooperation, and jointly building a community of a shared future for all mankind.
These new ideas and thoughts "reject the old concepts of alliance and confrontation, rise above the old approach of zero-sum games, and have distinct Chinese characteristics and major implications for the world," according to the foreign minister.
"They are guides to action for Chinese diplomats in the new era and will have far-reaching implications for human development and progress," he said.
Wang also said China hopes to contribute more to the world rather than becoming a "global leader", and believes the United Nations should play an effective role in handling international affairs.
"China believes in the equality of all countries, large and small. We don't believe some countries should lead other countries," Wang said.
"Rather than talking about leadership, we should really be talking about responsibility," Wang said, when answering a reporter's question whether China will play the role of a leader under current international circumstances.
Pointing out that large countries should shoulder more responsibilities, Wang said that China, a permanent member of the UN Security Council, will fulfill its obligations for international peace and security.
As the world's second-largest economy and the largest developing country, China will make due contribution to global economic growth and play a bigger role in upholding rights of developing countries, he added.
The foreign minister also said the UN, "the world's most authoritative and credible intergovernmental organization", should play an effective role coordinating international affairs according to the purposes and principles of its charter.
Other key points of Wang's news conference
・ The deployment of THAAD is a "wrong move"
"This is not the way for neighbors to treat each other. It may very well make the Republic of Korea less secure."
・ Japan must adopt the right frame of mind, as this year marks the 45th anniversary of the normalization of China-Japan relations and also the 80th anniversary of the Marco Polo Bridge incident
"The two historical events represent two totally different paths, one leading to peace and friendship, and the other to war and confrontation."
・ China-US-Russia relations should not be like a "seesaw".
"The three countries should work with, rather than against, one another and pursue win-win, rather than zero-sum, outcomes."
・ No international legal basis for Taiwan to maintain so-called "diplomatic relations"
"Taiwan authorities should clearly recognize this major trend: No person and no force can block the eventual and complete reunification of China."
・ Not allowing South China Sea stability to be disturbed
"At this moment, if someone should try to make waves and stir up trouble, they will have no support and face the common opposition of the entire region."