Germany can gain from role in new opening-up initiative, he says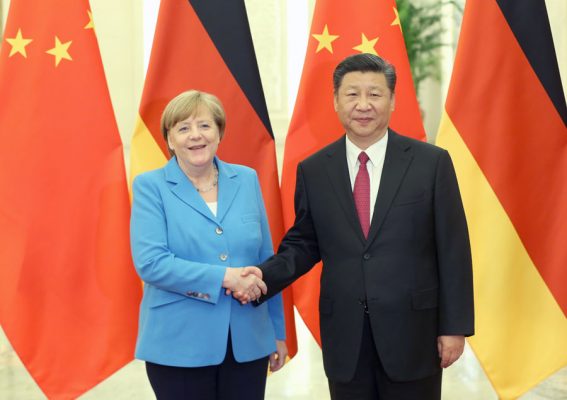 Germany is invited to seize opportunities created by China's new round of opening-up, and the two countries should cooperate more on industries of the future, President Xi Jinping said on Thursday.
Xi made the remarks while meeting with visiting German Chancellor Angela Merkel at the Great Hall of the People in Beijing. It's the German leader's 11th visit to China.
China and Germany should set an example of win-win cooperation, take the lead in strengthening China-Europe relations, promote building a new type of international relations and overcome their ideological differences while enhancing cooperation, Xi said.
The president pointed out that the two sides should continue with high-level exchanges, enhance the top-level design of bilateral ties, encourage exchanges in all areas and make full use of all ways to continue dialogue.
The two countries should make joint efforts to expand markets and jointly develop a third-party market, Xi said, adding that people-to-people exchanges should also be boosted.
China would like to work with Germany to push the improvement of global governance under a multilateral framework, Xi said, adding that the two countries should enhance coordination on hot issues.
Xi said that China appreciates Germany's support of the Belt and Road Initiative, and German enterprises are welcome to participate.
China firmly supports the unification of Europe and hopes that the European Union remains united, stable, open and prosperous, Xi said, adding that China would like to work with Europe to uphold multilateralism.
China and Europe should send more clear and confident signals to the international community and push stable development of the global situation to benefit all sides, Xi said.
Calling China an important member of the international community, Merkel said China is a significant German trade partner.
Germany would like to seize the opportunities presented by China's opening-up, expand trade and investment cooperation with China and boost people-to-people exchanges, she said.
The two countries should enhance communication and coordination on global affairs and strengthen cooperation under multilateral frameworks such as the G20, she said.
When Premier Li Keqiang met with Merkel on Thursday, he called for two-way opening-up to expand bilateral cooperation.