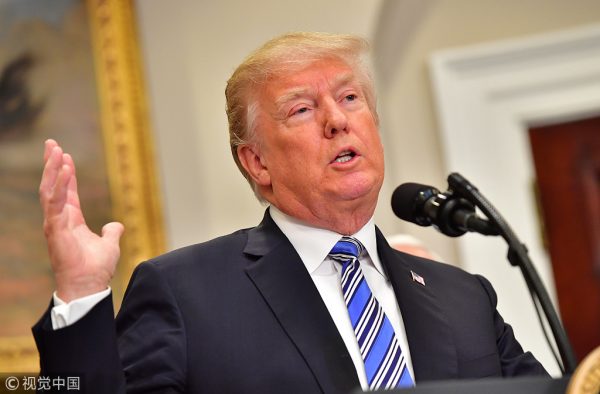 Brookings: Farming, aerospace, autos most exposed to China's retaliation
US metropolitan areas that specialize in agriculture, aerospace and automotive manufacturing are most exposed to China's retaliatory tariffs, according to a study by the Brookings Institution.
The US metro areas with the Chinese tariff-affected export jobs include Wichita, Kansas; Bakersfield, California; Jackson, Mississippi; and Stockton, California, all of which will have between 1,000 to 2,900 jobs affected, according to the Export Monitor 2018 report released by Brookings this week.
Seattle will have the highest total number of jobs at risk by far, with just above 16,000, according to the report, which includes the impact of tariffs either imposed or proposed by China on a total of 234 US products. King County, Washington, where Seattle is located, voted 72 percent for Hillary Clinton in 2016.
The US placed Section 232 tariffs on steel and aluminum imports in late March in the name of national security.
While most US allies are exempted, China, which is not among the top 10 exporters to the US, is not. In return, China imposed retaliatory tariffs on 128 US products from wine and fruits to pork and steel products.
China also proposed retaliatory tariffs on 106 US products, worth $50 billion, including soybeans, planes and cars, after the Trump administration announced tariffs on $150 billion in Chinese imports last month under Section 301 of US Trade Act of 1974.
The Brookings report also finds that while a mix of places will be impacted, counties that voted for US President Donald Trump in the 2016 election are more exposed to the Chinese tariffs, as measured by the share of exports in tariff-affected industries (3.9 percent) and the direct and indirect jobs those exports support (187,600).
In counties that voted for Clinton in 2016, only 1.7 percent of exports are in tariff-affected industries, which support 104,000 direct and indirect jobs.
Nick Marchio and Joseph Parilla, the report's two authors, concluded that while China and the US are not yet in a full-fledged trade war, the rumblings between the world's two largest economies is yet another signal of a new era in US trade policy, one that local and state leaders ought to be watching closely.
The report comes before US Treasury Secretary Steven Mnuchin will lead a US delegation to Beijing for trade talks on Thursday and Friday, a trip many hope can de-escalate tensions in the nations' trade and investment relationship.
Daniel Ikenson, director of the Herbert A. Stiefel Center for Trade Policy Studies at Cato Institute, said a stable and growing commercial relationship between the two countries is essential to the well-being of the global economy.
A smarter, more durable approach to the problems would be for Washington and Beijing to make lists of all of their gripes, put them on the table and see to what extent they can be resolved or mitigated in a bilateral trade or investment agreement, Ikenson wrote on Tuesday on the China-US Focus website.
He said that the US and China have not yet dealt seriously with the prospect of a bilateral free trade agreement, and given the current climate, such talks may be difficult to commence.
"However, what better way is there to avert a deleterious trade war than to resolve issues by putting them in writing and signing the document for all the world to see?" he said.
Economists and business leaders such as Fred Bergsten of Peterson Institute for International Economics, former AIG Chairman Maurice Greenberg and Ikenson's colleague Simon Lester all have proposed a bilateral free-trade agreement between the two countries.